embedding positive organisational performance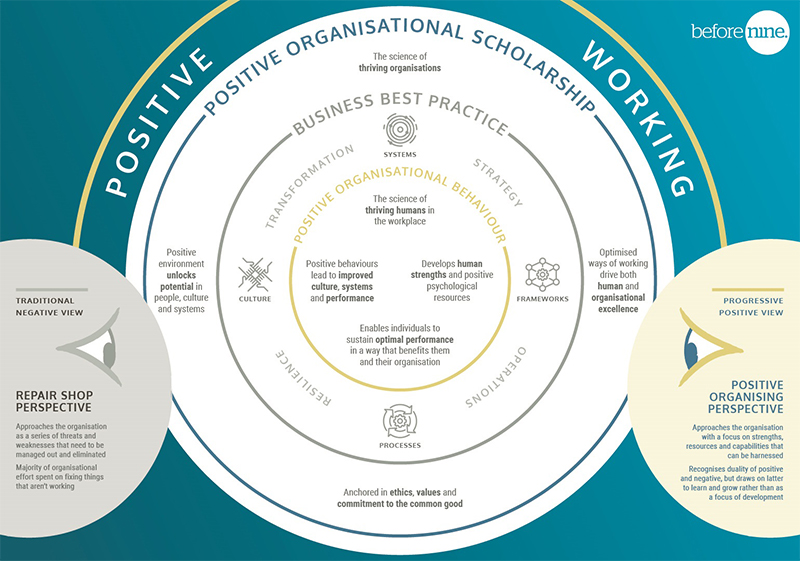 Many consultancies and training providers will give you vanilla techniques that fail to address the most critical component of organisational success ...how to unlock the power in your people.
We think differently. 
We draw on our collective experience as business consultants, psychologists and coaches to deliver an integrated approach to Positive Working - the science and art of embedding optimal performance across your organisation.
Blending Positive Organisational Scholarship (POS), the science of thriving organisations, with Positive Organisational Behaviour (POB), the science of thriving humans in the workplace.
And wrapping them around the business of organisational strategy-setting, operational performance, resilience and transformation.
Why? Because, in today's volatile environment, traditional business disciplines are no longer enough. They look at the process and the framework – but not the most important ingredient: your people.
We engage with the whole picture.
Immersing ourselves in your culture, your environment, and your challenges.
Applying evidence-based techniques to align the strengths of your people and organisation with your business systems, frameworks and processes.
Equipping your people with the positive toolkits your business needs to flex and innovate in uncertain market conditions.
So that you deliver optimal performance – in good times, in bad times…all the time...
I feel like I understand the actions and approaches I need to take more clearly. I feel I can further adapt my approach to situations or dealing with people, giving me better results and improving my overall personal performance in my role.

Stansted Airport