partnership and advisory support for positive working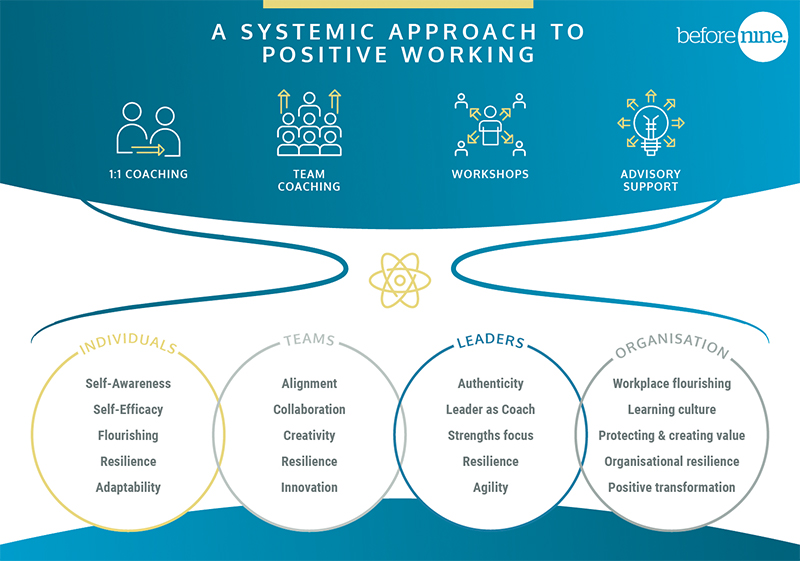 We build Positive Organisations.
We work from where you are now, enabling you to rise to challenges, excel in delivery, and create the qualities and conditions your people need to deliver optimal performance in any scenario.
From crisis to transformation - and anywhere in between.
Our method is systemic and organisation-wide, helping you to...
Place your people at the heart of how change and transformation programmes are designed, led, communicated, delivered, and supported.
Develop a positive risk culture based on understanding how people think, feel and behave in the face of threat and opportunity.
Equip your teams with the mindset, emotional muscles and behaviours needed to deliver an effective response to high-pressure situations.
Encourage your teams to embrace both the positive and the negative without fear, since both have much to teach us.
Our perspective is founded in the science of Positive Organisational Psychology, harnessing your resources and capabilities to...
Drive agility, wellbeing and results in your people, your community, and your organisation.
Help you to move from a position of "fail and fix" to a culture of sustained optimal performance.
Build and apply a bespoke toolkit of approaches and techniques to fit your goals, resources and budget.
Your journey is individual to you.
We act not just as coaches and facilitators, but as trusted advisers, travelling with you along your path to positive organisational working.
people developmentteam developmentleadership developmentorganisational developmentkeynote speaking
We need leaders, managers and project managers to successfully overcome - and generate opportunities from – the inevitable challenges, changes and failures that will emerge throughout a programme of this scope, scale and visibility.

UK Parliament